About this series: In the period I work on – fifteenth century London – Londoners had developed all sorts of legends and myths and had lots of ways of retelling their past. These histories fascinate me and are my main topic of research. However, in this series I am investigating the truth or fiction behind some of those myths.
This post concludes a four-part miniseries where I investigate London's early history, pre 800 A.D.
St Erkenwald and the Christianisation of London
Christianising London
We don't have much good knowledge of Anglo-Saxon pagan religion. We know the names of their principal Gods: Wodin, king of the Gods; Tiw, a god associated with heroic glory, war, and law; and Thunor, the god of Thunder. We assume that their mythology was similar to the better recording legends of the Scandinavians, with Odin Wodin being Odin and Thunor being Thor. Anglo-Saxons didn't build temples but preferred to worship outdoors. Judging from archaeology they were fond of adopting ancient British and Roman places of worship such as old standing stones, and also liked to worship around trees or at streams.
In 604 a man arrived in the city named Mellitus. He was part of a great mission, authorised by the Pope, sent to convert the people of England. Mellitus set himself up as apostle to the men of Essex, and installed himself as bishop of London. He probably spent a lot of time at the royal court, but the building of a new Cathedral must have provided jobs and stirred interest in the city.
St Paul's was probably raised on its current site – that is inside the old walls of the Roman city, at a time when most Londoners lived outside of the walls. Mellitus was making a powerful claim that the church was bringing back the Roman glory days. Early Christians would have had to traipse in to the old ruined city, through the old city wall in order to worship – this must have been a daunting experience!
Pagan Reaction
Perhaps it was too daunting, because the first generation of the mission didn't go very well. In 616 the Christian king, Saebert, died and his three pagan sons took over. Bede claims that burst in on Mellitus whilst he was trying to say mass at his Cathedral:
"And when they saw the bishop, whilst celebrating mass in the church, give the eucharistic bread to the people, they, puffed up with barbarous folly…[said]… to him, 'Why do you not give us also that white bread, which you used to give to our father Saebert, and which you still continue to give to the people in the church?'

To them, the Bishop answered, 'If you will be washed in that water of salvation, in which your father was washed, you may also partake of the holy bread of which he partook; but if you despise the water of life, you may not receive the bread of life.'"

(Bede, Ecclesiastical History, Book 2, chapter 5, here )
The pagans were outraged. They wanted the magic bread, and they weren't going to wash for it! If these quarrelsome Christians were going to make a massive fuss and disobey the kings for something as minor as a piece of bread, then they must be troublemakers! They ran Bishop Mellitus out of town and for thirty years the Cathedral stood empty.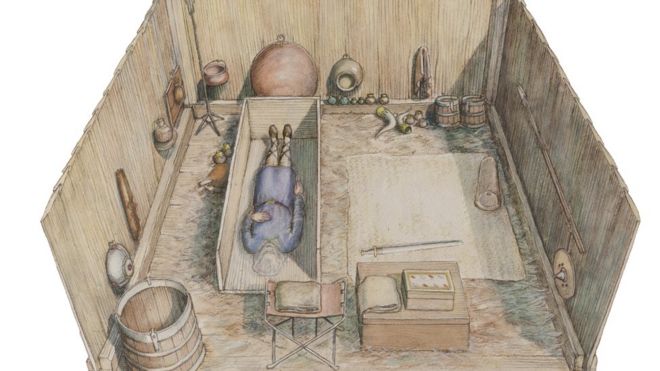 Introducing Earconwald
Christianity was down, but it was not out. There were several decades where London could have gone either way, but by the 660s, the Christian King Sebbi expelled his pagan brother and restored Christianity. Sebbi was so pious that later he would abdicate his throne and retire to a monastery. He had a particularly strong partnership with a pious monk named Earconwald. Nowadays you'll commonly see it spelled 'Erkenwald', which is the middle English version of the same name.
Rather handily, Earconwald would later become a saint and have legends written about him. Much of the rest of this blog post relies on the twelfth century life of St Erkenwald written by Arcoid of London: The Saint of London: The Life and Miracles of St Erkenwald, ed. E. Gordon Whatley, (Binghampton, 1989).
With Sebbi's help, Earconwald set about rebuilding Christianity. He first founded Chertsey abbey for monks. Next, Earconwald's sister Ethelburga founded Barking abbey for nuns.
Finally, in around 675 Earconwald got a promotion and became Bishop of London. He liked to be seen in public and to preach to the people – so much so that, even when he was too old and frail to walk, he had a horse litter built so that he could still preach in the streets. According to a much later (and not very reliable) story, once a wheel fell off his litter but the vehicle carried on travelling smoothly as if nothing had happened! The people apparently appreciated his common touch and his sense of charity, and Christianity flourished under his rule – or at least so his late biographers tell us.
The unlikely tale of the stolen body
He was staying at Barking abbey, with his sister and the nuns, when illness finally took him. His later biographer tells us that "as he passed from among them, a most marvellous fragrance and sweetest odour filled the cell where he lay, as if the whole house were drenched in perfume" (Vita of St Erkenwald, 91).
What a sweet end. What came next however, spoiled it. Two separate crowds turned up at the same time to claim the body: one was made up of monks from Chertsey, the monastery that Earconwald had founded. The other was a large crowd of ordinary people from London, led by the canons of St Paul's. Both sides wanted to take the cold, dead Earconwald back with them to be buried
There was an ugly stand off in the yard: nasty names were called and the Londoners broke into the nunnery. A crowd of laymen grabbed the body and legged it! The monks and nuns set out in hot pursuit, "weeping and wailing for the body of the blessed man" (Vita, 91). The chase was on!
As if there was not enough melodrama in this tale, a storm began to gather. The rain lashed down, the wind "was so violent that people could scarcely stand upright" (Vita, 91). The candles around the body were blown out. As the chase tried to cross the river Hile, also known as the River Roding, the waters surged up and blocked their paths forwards and backwards.
Still the two parties fought each other. But then, from amongst the Londoners stood up a learned and devout man who cried out that they must stop. This ridiculous chase had gone on long enough and was angering God. Everyone had to lie on the floor, pray for forgiveness, and let God decide.
This seemed a sensible enough suggestion and they all did so. Quickly the storm passed, and all of the candles around the body spontaneously lit themselves. The river lowered and presented them with their path back to London. Earconwald was going back to St Paul's! God had spoken: Earconwald was a Londoner, through and through!
The monks and nuns didn't miss out completely though. Earconwald's horse litter – the one that did the wheel miracle earlier in the story – was given to Barking. It was quickly found that if an ill person took a ride on the chariot then they would become miraculously better. It quickly became a tidy little money spinner, and the monks took some pieces of the chariot back to Chertsey with them.
Both Earconwald and Sebbi were buried in St Paul's Cathedral and they quickly became the focus of saints' cults and pilgrimages. This local mania for miracles and relics is really the first evidence that Londoners were becoming properly enthusiastic about Christianity. The new religion had found its footing.